Pregnancy Chiropractic at Malpass Family Chiropractic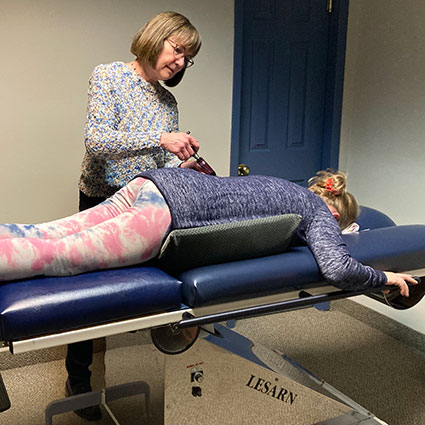 If you've been feeling the aches and pains of pregnancy, Dr. Malpass understands. With three kids of her own, she empathizes with expecting patients and does everything she can to make those nine months comfortable and smooth. Her experienced and gentle prenatal care makes sure you're functioning at your best so your body can thrive the way it's meant to, keeping you and your baby in optimal wellness.
Awaiting Your Little One With Maximum Health
Chiropractic care is especially important when you're expecting, as your body is going through rapid changes and needs the support of a strong nervous system. At Malpass Family Chiropractic, we help you stay in alignment as your developing body puts additional pressure on your posture. Our goal is to help reduce the discomfort of pregnancy by empowering your body to function at its best.
NEW PATIENTS

We have specialized cushions you can use to comfortably lie on your stomach. You won't have to crawl on and off the adjusting table. We'll have you stand facing the table, which will then bring you down flat for a comfortable experience.
Taking the Time to Meet Your Needs
The frequency of care depends on each individual patient's needs. We typically recommend getting regular adjustments right until the week of birth. Dr. Malpass can also check you and your baby after birth to make sure you're both healthy and recovering well.
We'll take as long as you need during each appointment, slowing down if necessary to answer your questions and keep you comfortable. While our approach to care remains essentially the same for pregnant patients as it is for others, we also have experience evaluating your baby's positioning in the womb and helping correct any pelvis misalignments that may be affecting your health.
Make Your Way to Wellness Today
We want to make this season healthy and enjoyable for you so you can treasure every day of anticipation. Book now.
CONTACT US
---
Pregnancy Chiropractic Ancaster ON | (905) 648-9991