Pediatric Chiropractic at Malpass Family Chiropractic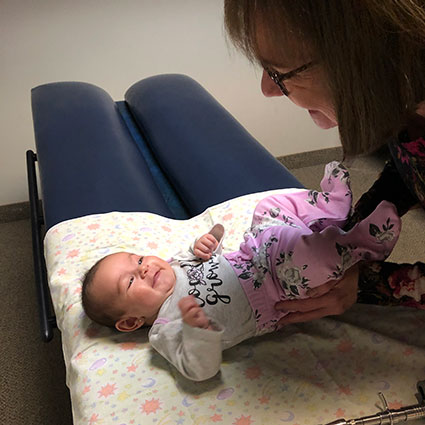 Pediatric chiropractic takes care of children's growing spines to help them function optimally. Chronic ear infections, colic, and bedwetting can all be signs that something is wrong and we need to take a closer look. We help with posture, injury recovery, and overall wellness so your kids can develop healthy and strong and achieve the most out of every stage.
At Malpass Family Chiropractic, we have experience helping babies, kids, and teens develop at their best. We work with everything from sports injuries to toddlers going through the bumps and falls of growing up. Our child-friendly environment puts kids at ease as we help them feel their best.
NEW PATIENTS

Professional Care for Every Age
Dr. Malpass is a fellow of the International Chiropractic Pediatric Association and has experience giving gentle adjustments using the Activator Method®. She has two different instruments she can vary between, lowering the force for smaller spines. She'll often put her thumb on the spot she's adjusting to soften the pressure even more.
At your child's first appointment, we'll do a thorough assessment using gentle palpation. Even though parents are often the ones answering questions, Dr. Malpass always looks directly at the child while asking questions and explaining health care so they understand what's going on.
We have gowns and shorts for little ones that your child will change into before we perform a scan and examine posture and alignment. In most cases, we'll give an adjustment that same day.
Keeping Health Care Anxiety-Free
Children who aren't old enough to lie on the table will lie down on the parent either chest-to-chest or belly-to-belly to help them feel more comfortable receiving care.
We have receiving blankets specifically for babies getting an adjustment.
If kids are nervous, we'll start by showing them the instrument and demonstrating how it works on a parent's hand. Letting children explore the table and instrument or even practice giving Dr. Malpass an adjustment on her hand makes them feel more confident and in charge of the experience.
Transform Your Kids' Wellness Today
Help your kids stay healthy without medications. Book now.
CONTACT US
---
Pediatric Chiropractic Ancaster ON | (905) 648-9991