Meet Dr. Sandra Malpass
Helping Patients Find Happiness and Healing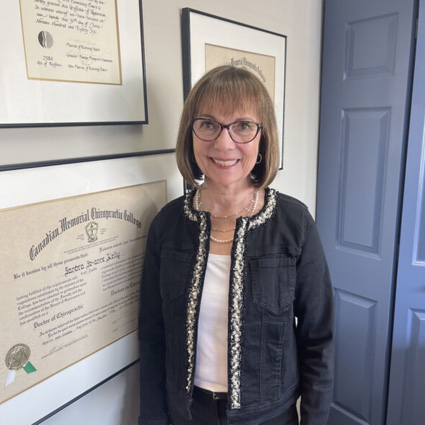 Ever since she was young, Dr. Malpass knew she wanted to go into a healing profession so she could help others. Now she's had the privilege of spending over three decades applying her chiropractic expertise to help countless patients improve their function and quality of life. For her, every day at the office is rewarding as her patients experience happiness and healing and find their way back to the life they want.
A Chiropractor Who Cares
Dr. Malpass graduated with honours from the Canadian Memorial Chiropractic College. She became a fellow of the International Chiropractic Pediatric Association in 1997. That same year, she also earned her Advanced Proficiency Rating as an Activator Method® practitioner.
EXPLORE OUR SERVICES

From their very first appointment, patients can tell that Dr. Malpass doesn't just have experience and skill; she truly cares. She practices close listening, engaging deeply in the conversation because she wants to get to know you as a person and pinpoint exactly how she can help.
All in the Family
For Dr. Malpass, chiropractic is both a personal calling and the family trade. Two of her brothers, two nephews, and one cousin are all chiropractors. Her oldest brother was the first one to discover the benefits of natural health care when a chiropractor helped him recover from hockey injuries.
Dr. Malpass then experienced the results of chiropractic for herself. Ever since she was 10, she'd suffered from migraines that nothing could alleviate. Finally, she began finding relief through adjustments and became a chiropractor herself.
She later discovered that the Activator Method® provided more relief than manual adjustments had. As a result, Dr. Malpass resolved to give instrument-assisted adjustments to her own patients so they could experience maximum relief.
Outside of work, Dr. Malpass loves to read, ride her bike, and spend time with her husband, three children, and friends.
Schedule Today
We're eager to apply our expertise to helping you get the most out of life. Book now.
CONTACT US
---
Dr. Sandra Malpass | (905) 648-9991